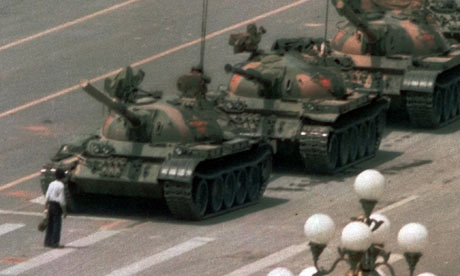 Twenty years ago tanks rolled into Beijing's Tiananmen Square to crush the biggest pro-democracy movement in history. Hundreds were killed, thousands jailed and many fled to escape persecution. Here exiled leaders of the student revolution tell their remarkable stories and reveal how, after being forced to build new lives, they remain haunted by its bloody legacy.
Over seven tumultuous weeks of nationwide demonstrations and protests, beginning with the death of the sacked reformer, Hu Yaobang, on 15 April 1989 and ending with the movement's violent suppression on 4 June, an estimated 100 million people across China demonstrated in support of political reform. The movement was inchoate, contradictory and politically confused but it remains the biggest peaceful pro-democracy movement in human history. For the millions who took part, life would never be the same again.
Some are still in prison. Others, in mourning, are still harassed. A few campaign openly for a reversal of the Communist Party's verdict that the movement was the work of "a small clique of counter-revolutionaries" who wanted to overthrow the party and the socialist system. Behind the few high-profile campaigners and dissidents is the much larger throng of those who still nurse memories too painful to discuss.
It's been two decades since that lone protester defied a column of tanks on Beijing's Avenue of Eternal Peace, before vanishing, never to be identified. Since that time, China has prospered economically. The party has embraced the market and traded the socialist system it claimed to defend for the pleasures of getting rich. Younger generations are vague about a movement that still cannot be publicly discussed or documented. But the suppression at Tiananmen continues to exact a high price: the constant falsification of history, a political system frozen by the fear of the people's judgment, and a leadership that sees the ghosts of Tiananmen wherever voices call for political reform.
Link